Best Graphics Settings for Back 4 Blood | 60-144 FPS
Back 4 Blood has just been released on Steam and Epic Games and we have the best graphics settings for the game right here! This setting ensures stable performance on both old and new hardware and keeps the game looking good while giving you a solid 60/144 FPS with native resolution.
With the open beta drawing to a close and an imminent release, we can only hope that the game will get more optimizations in the future, which will only increase system, stability, and overall performance.
Back 4 Blood Best Graphics Settings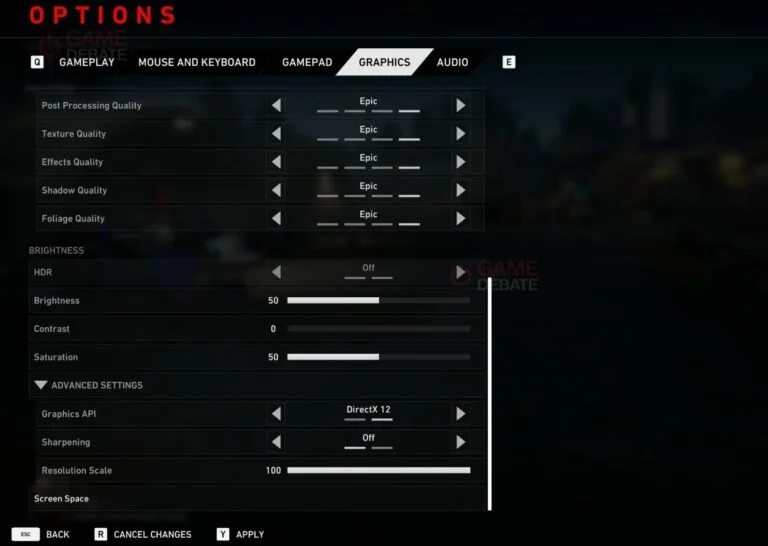 Although the game is recently released, the developers have done a stellar job in terms of optimization. You won't get any performance issues and as of our open beta game it works decently well on older hardware too.
Game Requirements
Before moving on to the best graphics settings, you should have an idea of what kind of specs you need to make the game run smoothly.
Recommended Specs
CPU: Intel Core i5-8400 or AMD Ryzen 7 1800X
RAM: 12 GB
GPU Memory: 4 GB
GPU: Nvidia GeForce GTX 970 or AMD Radeon RX 590
Note: These specs should have the game running at 1080p / 60 FPS locked with the settings mentioned below.
Back 4 Blood PC graphics settings:
Window Mode: Fullscreen
Screen Resolution: Native
Anti Aliasing: TAA
Nvidia DLSS: Quality
Motion Blur: Off
Chromatic Aberration: Off
Adaptive FX Quality: On
Field of View: 100 (Wider FOV tends to be better regardless of the FPS)
VSync: On (turn off to save performance if screen tear isn't an issue)
Limit FPS: Off (cap the FPS if there are hitches in the gameplay)
Quality: High (medium works nearly as well)
Post Processing Quality: Medium
Texture Quality: High
Effects Quality: Medium
Shadow Quality: Medium (set to low if their are performance issues)
Foliage Quality: High
HDR: Off
Brightness: 50 (player displays may vary)
Contrast – 0
Saturation – 50
Graphics API – DirectX 12 (unless there are crashes)
Sharpening – FidelityFX
Resolution Scale – 100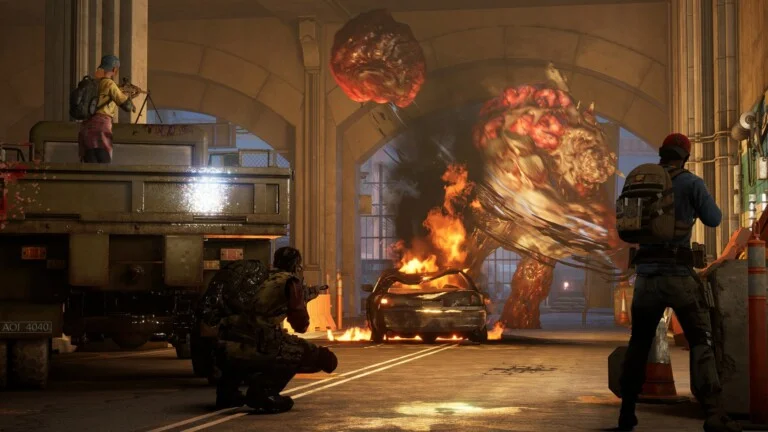 Recommended Settings
After rigorous testing and gaming, we have created the best graphics options for the game that should give you 60/144 FPS based on your settings.
If you can't reach that goal or you're playing at a higher resolution, we've also provided suggestions on what settings you can lower to improve your overall performance and stability.
Window mode: full screen (opting for any other option significantly reduces its performance and adds input lag).
Screen resolution: native (if you have a 1080p screen it should be fine. However, you may need to lower some of these settings if you are playing 1440p / 4k)
Motion Blur – Preferred (We recommend keeping it off. However, having it on provides a more cinematic look).
Chromatic abberration: off
Adaptive FX Quality – On (reduces memory usage. So if you have 8GB of RAM, turn it off).
Field of view: 90-100 (depending on your preference).
V-Sync: Off (if the screen breaks, turn it on)
Limit FPS: On (set it to your monitor refresh rate. You don't want to render extra frames for no reason).
Post-Processing Quality: Medium / High (if set to High, it significantly affects performance).
Texture quality: Medium / High (Medium if you have a card with 4-6 GB of graphics memory.
Quality of effects: low (significant impact on performance with little or no visual difference).
Shadow quality: low / medium (depends on performance load).
Foliage quality: medium
HDR: Off / On (Depends on the type of monitor you have. Most modern monitors support HDR).
Graphics API: DirextX 12 (Set to DX12 if you have stable frame rates. Otherwise, convert to DX11. Note that newer cards work better with newer APIs).
Launch Options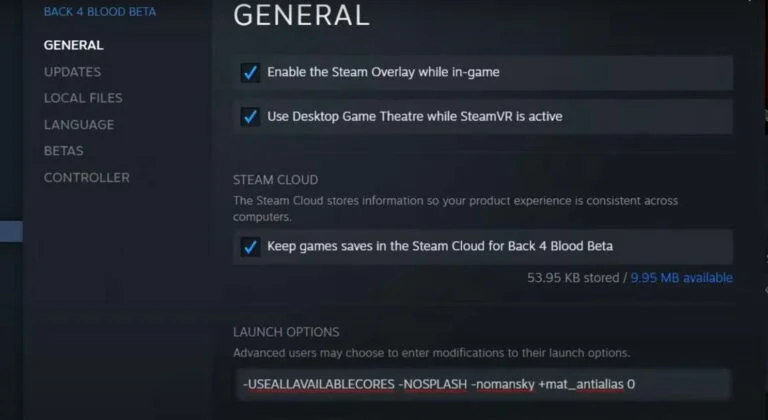 If you have the Steam version of the game, head over to your Library, search for Back 4 Blood, click Properties, and paste it into Launch Options:
-USEALLAVAILABLECORES -NOSPLASH -nomansky + mat_antialias 0
Note: If your game is crashing, head to Steam properties click on Verify Integrity of Steam Folders
As is customary with the release of any new game, Nvidia and AMD have developed game-ready drivers for their chipsets that provide users with an improved experience.
For NVIDIA users, download the official version of the Game Ready Driver 471.68
For AMD users, download Adrenalin 21.8.1
Once you've installed the updated drivers, consider checking out our NVIDIA Control Panel Setup Guide for the best performance.
That's all you need to know to get the best performance from Back 4 Blood on your PC. If you need help with setting up these charts or have a suggestion, please let us know in the comment section below.