PUBG Mobile is one of the world-famous battle royale games ever released for mobile gamers. Players who love spending time while playing with their friends need to know more about the types of weapons they can use in the game. So, we are back with another PUBG Mobile Weapon Tier Guide. Weapons in PUBG Mobile are subcategorized into different types such as assault rifles, sniper rifles, DMRs, submachine guns, shotguns, and many more. We have brought you another guide on one of the best assault rifle pistols, M416 used by PUBG Mobile players.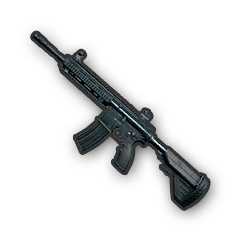 M416 is one of the most widely used assault rifle pistols in PUBG Mobile. This 5.56mm loaded pistol can be found everywhere on the map. Players can use the weapon as a primary or secondary weapon due to its easy accessibility. It has a magazine size of 30 rounds that can be further increased (40) by attaching Extended Mag. The pistol can be used in two modes: single and automatic.
TIER/RATING – RANK A
*Weapons are Ranked from highest to lowest (ex. S, A, B, C, D, E)
WEAPON STATS
Power – 41/100
Rate of Fire – 75/100
Range – 56/100
Capacity – 30/100
Stability – 63/100
Weapon Class – Assault Rifle
Ammo Type – 5.56mm
Mode – Single/Auto
ATTACHMENT
In addition to power, range, and modes, players can also improve weapon abilities by adding various types of accessories to the pistol. M416 can equip 5 types of accessories: muzzle, sight, magazine, stock and side sight. Let's take a look at them.
MUZZLE
The M416 can be equipped with three types of muzzle: compensator, suppressor and flash suppressor. The best muzzle for the weapon is the compensator, as it helps reduce horizontal recoil and vertical recoil. Players could also use suppressors in last circle fights to reduce gun noise.
SIGHTS
The game offers various types of sights that can be attached to weapons. M416 can be coupled with a red dot sight, holographic sight, 2x, 3x, 4x, and 6x scope. Most players use Red Dot Sight for close-range fights. Whereas in long-range fights, professional players convert 6x range to 3x range and spray the enemy. How it reduces the recoil of the gun.
FOREGRIPS
There are six types of front grips that can be attached to the weapon. Here's the list: vertical, angled, thumb, medium, light, laser. Vertical and Half are the grips most used by players.
MAGAZINE
The game offers three types of magazines that can be attached to the weapon. Extended Mag (AR), Quickdraw Mag (AR) and Extended Quickdraw Mag (AR). However, Quickdraw Extended Mag is recommended as it reduces reload time and increases the magazine capacity of the pistol.
STOCK
PUBG Mobile only offers an option as an action to add to the gun. The tactical stock is used to reduce felt recoil, as well as to facilitate consistent aiming for players.
SIDE SCOPE
The side scope acts as a new scope for weapons that comes with a secondary scope slot. This mainly helps players if they are in close and long fights together. M416 can be equipped with tilted sight.
PROS &CONS
PROS
Easy to control recoil.
Faster reload speed.
Best gun for close and long-range.
Moderate rate of fire.
CONS
Lower damage than 7.62mm guns.
Bad iron sights.