Pubg mobile M16A4 Radiant Edge Skin
M16A4 Radiant Edge Skin is now available on PUBG Mobile, it can be updated up to 5 times! Valid until July 15, 2021, you have a chance to get the M16A4 Radiant Edge skin and 2 new sets in Radiant Edge Crate PUBG Mobile for 60 UC.
There is good news for loyal PUBG Mobile fans waiting for the latest skin for the M16A4. Until July 15, 2021, you can get M16A4 Radiant Edge, a new skin that can be upgraded up to 5 levels.
So how to get M16A4 Radiant Edge skin in PUBG Mobile? Check it out below!
How to Get M16A4 Radiant Edge Skin in PUBG Mobile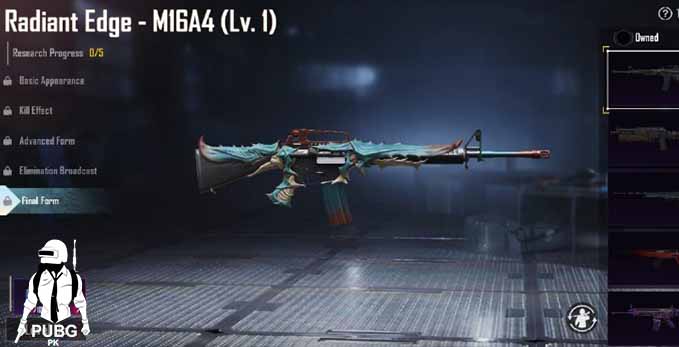 You can get M16A4 Radiant Edge using UC to open Radiant Edge Crate from June 27 to July 15, 2021, here is the cost:
1x open = 60 UC.
10x open = 540 UC.
Each time you open the box, you will fill the progress bar for Radiant Edge Crate. Once the bar is full, you can choose Radiant Edge M16A4 (Lv.1), Materials or Paint (x20), for free.
PUBG Mobile's Radiant Edge Crate Prize List

In addition to the M16A4 Radiant Edge Mask, you can get other cool prizes, including the Fruit Fiesta Outfit Set, Cyber Tribe, the Machete Mask for Parachute Trail. Here is the complete list:
Legendary Items (2,75%)
Fruit Fiesta Set
Fruit Fiesta Headpiece;
Bug Box Backpack;
Decorated Helmet;
Materials.
Epic Items (17,25%)
Radiant Edge M16A4 (Lv. 1);
Cyber Tribe Machete;
Cyber Tribe Outfit;
Cyber Tribe Mask;
Paint (x2/x3/x5);
Parachute Trail (Green);
Parachute Trail (Pink).
Rare Items (80%)
Classic Crate Coupon Scrap (x1/x2/x3/x5);
Scarecrow Graffiti (x1/x2/x3);
Halloween Witch Graffiti (x1/x2/x3);
Halloween Zombie Graffiti (x1/x2/x3);
Silver Coins (x10/x20).
Do you like the prizes? Open the Radiant Edge Crate starting from 60 UC before July 15!
RADIANT EDGE CRATE PUBG | RADIANT EDGE M16A4 PUBG | NEW LUCKY CRATE PUBG
PUBG Mobile introduced THE RADIANT EDGE-M164A: PlayerUnknown's Battlegrounds mobile – The world-famous Battle Royale game released in 2018 put the world on its feet after its initial release. Gaming forever changed the mobile game industry and no other game could do that. Being one of the most played and watched games around the world, the game never disappointed in terms of in-game decorative elements. Exclusive weapon skins, premium clothing, and classic rewards in the Royal Pass. Krafton and Tencent try to provide the best possible gaming experience.
Pakistan is one of the top mobile-oriented gaming sectors and one of the top PUBG-mobile markets in the world. The audience base is in the millions in Pakistan and in-game purchases exceed the million-dollar market in Pakistan. So to continue the excitement and keep the audience more intact and more excited, Pubg mobile introduces a new in-game skin for the medium to long-range shooting pistol, a fan favorite "The M164A". RADIANT EDGE-M164A ".
How to get Radiant Edge M16A4 in PUBG Mobile?
The skin will be available via box opening starting June 27, as announced on the official PlayerUnknown's Battlegrounds Mobile-Pakistan page in a post that mentions: "The Radiant Edge M16A4 will be online this Sunday! Stay tuned to PubG Mobile! Download it to come to Summerland! "
The M164A skin can be upgraded with added beauty with each level, it comes with its own custom kill message and kill box. The leather in its base variant has a rusty red appearance and has rusty tones like flames. Once upgraded to the maximum level, its appearance changes to a greenish-yellow dragon face that covers the barrel of the weapon.