PUBG Mobile x BLACKPINK Virtual Concert: Schedule, Events, Prizes, Song List, Experience the best of both worlds with PUBG Mobile x BLACKPINK Virtual Concert! This event is packed with exclusive songs, events, and prizes. Don't miss out on this chance to see your favorite K-pop stars live!
The most adored K-pop girl groups around all of the globe, BLACKPINK, will be featured in PUBG Mobile's first-ever live concert in the game titled "The Virtual".
It's a truly unique event for all PUBG Mobile players. It also includes a brand-new debut single track entitled 'Ready For Love'. It gives an incredible opportunity for players to play this track first-hand.
Following their collaboration that was a success two years ago, in 2020, BLACKPINK and PUBG Mobile have joined forces time to create amazing in-game events scheduled to be held over two weeks in July.
This is all you should learn about the BLACKPINK x PUBG Mobile game concert as well as all the other features that are included with it.
"PUBG Mobile" x BLACKPINK in-game concert "The Virtual': Everything you must be aware of
The second time that BLACKPINK has partnered with PUBG Mobile, having previously worked together in the year 2020. Alongside the performance, plenty of other games have been made available to players as part of this collaboration, such as custom-made outfits as well as voice packs as well as voice commands for games with events in-game, prizes for viewers and much more.
PUBG Mobile x BLACKPINK Concert Schedule
The very first PUBG Mobile in-game performance "The Virtual" will take place over two weeks for all areas around the globe. The timetable is as follows,
North and South America: 22 nd to 23 rd July | 29 th to 30 th July
Rest of the World: 23 rd to 24 th July | 30 th to 31 st JulyI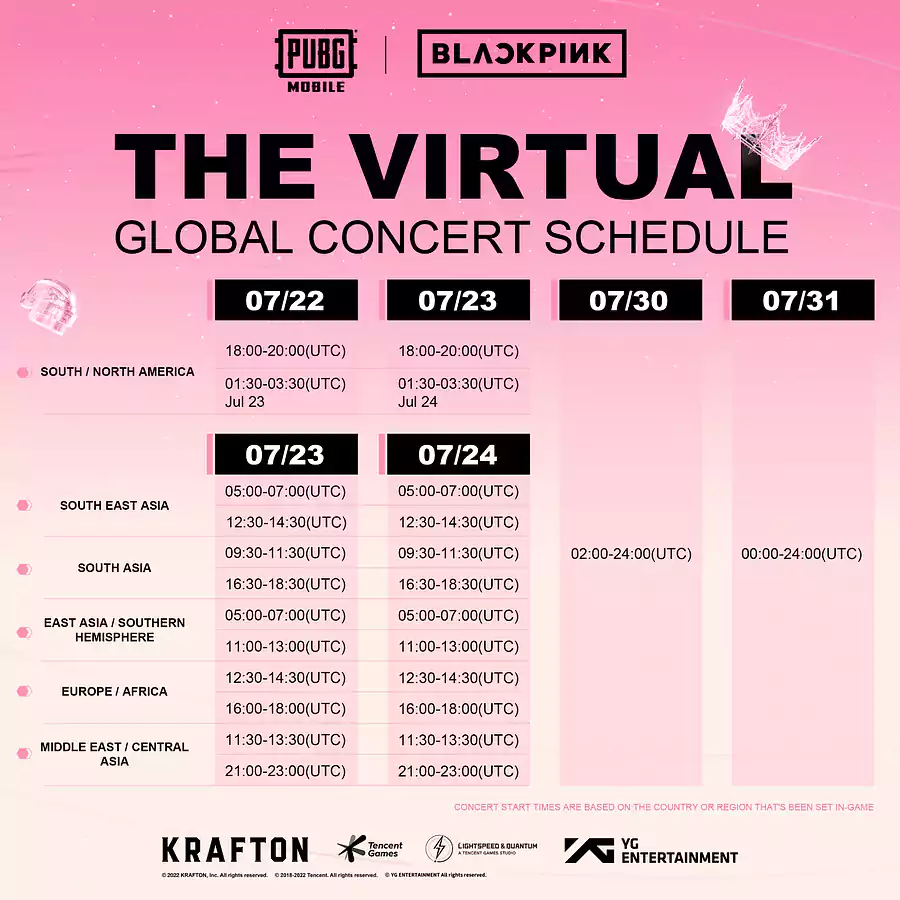 How To Watch PUBG Mobile x BLACKPINK Concert
All PUBG Mobile gamers will be able to get tickets to their own in-game concert completely free of charge by logging into the game. The players will need to download the "Concert Resource Pack to help prepare for the event and will also enjoy other benefits that come with it.
PUBG Mobile x BLACKPINK Concert Viewership Rewards
To attempt to set an all-time world record for viewership for the PUBG Mobile x BLACKPINK concert, various prizes have been announced. They are unlocked once the desired milestone is reached by the crowd.
1 million peak concurrent viewers: In-game support items
5 million peak concurrent viewers: 3D mapping show
12.5 million concurrent peak viewers New York Times Squares exclusive offline exposure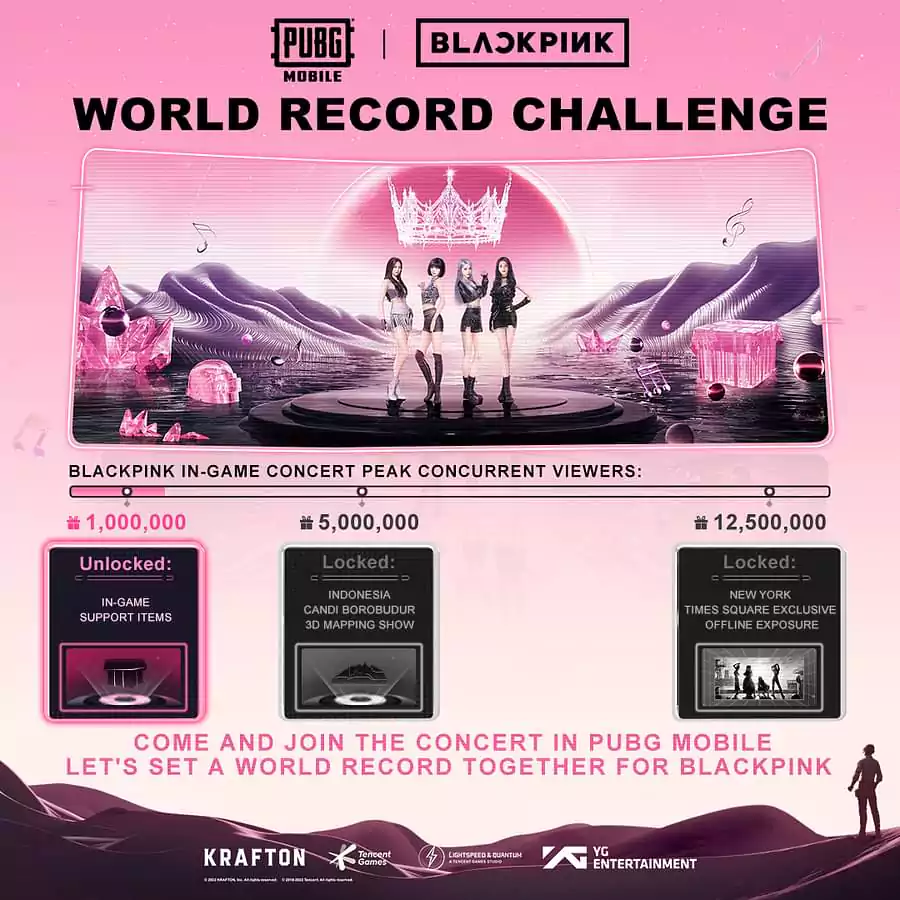 PUBG Mobile x BLACKPINK Concert In-Game Events
By participating in the Cheering Event participants will be able to acquire exclusive in-game items that are limited in quantity through the collection of Cheer Value. The items that are available are listed below:
BLINK Titles – 100 Cheer Value
Glow Sticks – 500 Cheer Value
Premium Crate Coupons – 2,000 Cheer Value
Ice Cream – 10,000 Cheer Value
BLACKPINK Lovesick Girls Sets – 50,000 Cheer Value
Need some tips and guidance for @BLACKPINK's THE VIRTUAL-themed in-game events?

Check this video to get your rewards and be well prepared for the in-game concert!

Download Link: https://t.co/L5IS34kizu#BLACKPINKxPUBGM #BLACKPINK #PUBGMOBILE #THEVIRTUAL #INGAMECONCERT #PUBGM pic.twitter.com/HZrW7qhwvY

— PUBG MOBILE (@PUBGMOBILE) July 22, 2023
Players can also get together and get a plane banner that is displayed across the server to show their support to BLACKPINK on PUBG Mobile.
There are various daily tasks that players can complete prior to 31 July. July to earn "Pink Crystals". They can be used to purchase game-exclusive items like AG Cheer Banners Ice Cream as well as BLACKPINK Lovesick Girl Sets.