Pubg New State 60fps and 90fps config file download 2022. Unlock HDR, Ultra HD, and extreme graphics setting in Pubg New State 0.9.24.195.
Pubg New State is a future-based game based on Pubg Mobile. If you have not played any battle royale game in the world, you must try Pubg New State with Ultra Graphics 90fps setting. Pubg New State's graphics setting depends on the device to support 60fps or 90fps in the new mobile state.
On low-end devices, 60fps is not supported. But, with the help of 60fps (maximum) and 90fps config file for Pubg New Status 0.9.24.195, you can run Pubg New Status at full graphics setting even in low-end devices. So let's let how to set up a file in New State Mobile in your Andriod Low-end device.
Pubg New State 60 FPS Config File Download
You can easily play 60 frames per second in Pubg New State even on the low-end device. You will not need any 60fps config file for Pubg Mobile to achieve this. You just need a GFX Tool for Pubg New State. Download the GFX Tool below and configure the setup shown below. Your new Pubg Status will run at 60fps in your low or medium devices.
GFX Settings to Enable 60 FPS in PUBG Mobile
Select Version: 1.5 (BGMI)
Resolution: 1024×576
Graphics: Smooth
FPS: 60FPS
Anti-Aliasing: Disable
Style: Colorful
Rendering Quality: Low
Light Effect: Disable
GPU Optimization: Disable
Water Reflection: Disable
Save Controls: Enalble
Related searches
pubg new state fps config
pubg new state 60 fps config
pubg new state extreme fps config
pubg new state 90 fps config file
pubg new state 90 fps config file download
Download 90 Fps Config file for Pubg New State
With the help of a 90fps configuration file, you can enable a 90fps setup and a full graphics setup in New State Mobile. As we all know, Pubg Mobile only allows a specific device to run New State Mobile at 90fps and most of these devices are quite expensive and cannot be purchased by users of low-cost devices.
Remember to unlock 90fps with the help of a config file, your device must be 90fps and for this, your device must have a 120Hz display rate.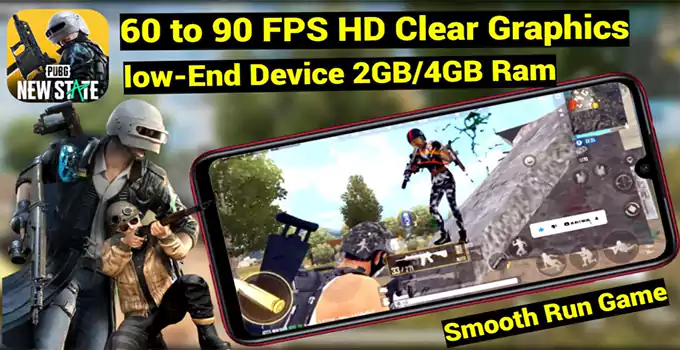 How to Install 90 fps Config File in New State Mobile
The process of installing the config file in Pubg is straightforward. Follow the step below to use the 90fps configuration file in New State Mobile.
Download the 90fps config file with the help of the download link above.
Extract the file with the help of Zarchiever or any other file explorer.
After decompressing, copy the "files" folder from the Unzip folder.
Go to Android/Date/com.newstate.ig/
Now copy the "files" Folder and Past The files "Folder. If you get any popup, just click on the "Replace" button.
After replacing all files with a new one, close all applications from recent applications
Now open PUBG MOBILE and enjoy.
Final Words
So, this is all about New State Mobile's 90fps and 60fps config files. If you have any issues regarding the installation of the file, do let us know in the comments section. We will try to respond to your problem as soon as possible.