At the end of every year, news of millions of banned PUBG Mobile accounts always stirs up a hornet's nest. As it stands, players who have used unfair means, mods, and hacks to win the game are being slapped with a "PUBG account banned for 3650 days."
So far, notifications of "Violation of the user agreement to ban PUBG Mobile" or "Your account will be banned for violating PUBG Mobile regulations" are sent to players who use third-party hacks to get into the game. Some of these hacks give a slight performance boost while others change the gameplay settings. Common violations are the use of X-Ray Vision, Auto-Aim hacks, and Player Speed ​​hacks.
These third-party hacks are against the fair policy of the game. Some accounts have been suspended while more serious violations are subject to 10-100 year bans.
Take that, cheaters! Although it is worth noting that it has been discovered that hacks are scattered at all levels of the game. They range from basic bronze to first-class diamonds.
However, if you're one of those unlucky few who got banned for no reason at all, or so you think, keep reading. We have compiled a list of potential issues and solutions that can help in unblocking a PUBG Mobile account.
How to avoid PUBG Mobile Account ban notice?
Cheating and Hacking: For the player who has received the notification "PUBG mobile has been banned for no reason", he must make sure that he is not using any unfair means. No cheats or hacks involving third-party software, DUH!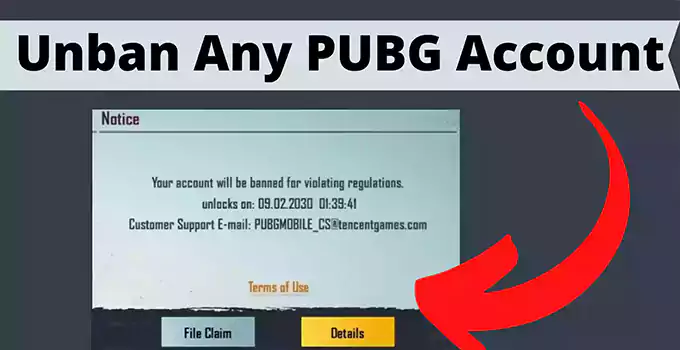 Collaboration with hackers: Second, avoid collaborating with members who believe in hacking, killing the team, or even going after others. While you can say you didn't use any of the restricted features, the account could easily become a candidate for suspension. Paying large sums for someone else's fault is worth avoiding.
Aggressive Behavior – Game publishers take player behavior very seriously when it comes to violations of nationality, color, gender, race, or any form of harassment or intimidation.
VPN: There are a few countries that have banned PUBG Mobile. In case you are using a VPN to access your PUBG Mobile account, don't… don't. Although it is not considered a violation of the "PUBG Mobile Ban Rules", using a VPN can trigger third-party software which in turn can invoke a ban. Long story short, it's best to stay away from that shady online dude who "legally" sells booster packages.
Aside from specifically "hacking/cheating" detection programs, there are other actions that can violate PUBG Mobile's code of conduct and cause a permanent ban. It includes software designed to bypass PUBG services. Another program is a program that changes the game in any way even if it is not for cheating. Remember that cheats, macros, etc. used in other games are a violation of the game services.
How to unban a PUBG Mobile account?
There is no set and fast rule for the question of How can I unblock an account on PUBG Mobile? But yes, it is possible to unblock from PUBG, although the same PUBG Mobile hack cannot work for everyone.
To get started, let's understand that the type of ban imposed on a PUBG Mobile account is temporary or permanent.
If the ban is temporary, all players know that the ban will be unblocked within two days. One needs to wait patiently for the ban period to expire. It's very simple.
The other type of PUBG ban is permanent. It gets slapped if developers catch cash payers resorting to cheating, toxicity, and offensive titles to name a few. If you are on the receiving end, it can be difficult to unblock from PUBG. Permanent PUBG account ban for 10 years or 3650 days.
The official statement released by PUBG Mobile Support explains how they are approaching the whole idea of ​​banning hackers and cheaters. Although there is a way to contact customer service for assistance in unblocking a PUBG Mobile account. This applies only in those cases where it is wrongly blocked. There are 3 different ways, depending on the type of ban, a player can challenge the unblocking of PUBG Mobile.
"Unban PUBG Mobile Account" Appeal Through Support Ticket
In case the ban is permanent, then you need to contact the PUBG support site. Submit a ticket on the official PUBG Support Ticket creation page after choosing a platform. Before raising your ticket, collect all necessary clues. Upload it with the justification of "PUBG mobile banned for no reason" in the description box.
One can also send an email to "[email protected]" explaining your side of the story. Don't forget to include your character ID and account name.
"File Claim" to unban PUBG Mobile Account
The developers introduced a feature when a PUBG Mobile account was wrongly banned. It is an advantage to make a claim. In the notification that is given, there is an option to "Make a Claim" on the left side. This is an appeal to Karfton/Tencent to get your PUBG account back. If you are judged wrong when it comes to violating any terms and not using third-party apps to improve your gaming skills, this option can be exercised.
Unban PUBG Mobile Account Appeal via BattlEye
Draft a well-written email (including all details) to [email protected] or fill out a simple contact form here.
PUBG Mobile Account Unban Appeal Via In-Game
Head to the Customer Service option available in the game which leads to the messaging service with the support staff. Have your arguments ready before pressing the message option.
Once all the details are shared, the arguments will be verified by the technical support team and you will be notified of their decision.
Many of you have slapped an account ban and would like to make a pro player move. Share with us in the comment box, how you did. If you find this helpful, visit our website for more information on similar trends.