PUBG Mobile's frequent updates have introduced a range of intriguing new features over the years, keeping them fresh and engaging for gamers. The PUBG Mobile 1.6 beta release a few weeks ago has kept the entire community excited about the upcoming update.
Recent posts on official identifiers have added to their hype, as the developers teased the upcoming 1.6 update with little detail on the Flora Menace and Cell-Matrix game mode.
PUBG Mobile 1.6 update release date and time
The PUBG Mobile 1.6 update is right around the corner, and the following was recently announced on PUBG Mobile's official Discord server:
"Brace yourselves, it's almost time for endurance! Our version 1.6 update will be released on September 14, 2021 at 05:30. The Yarilo will land in Erangel shortly."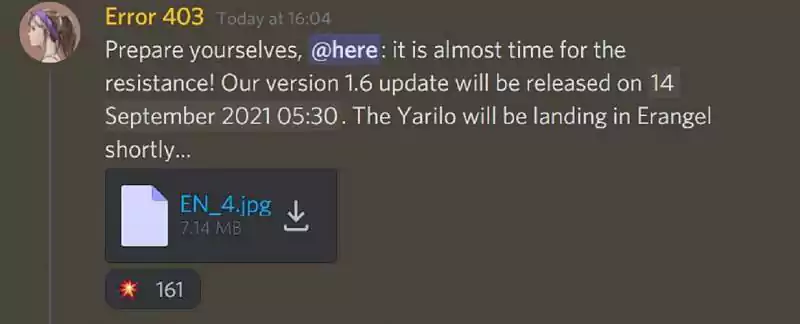 Therefore, the PUBG Mobile 1.6 update release date and time is September 14, 2021 at 0 UTC. Here are the exact times for other regions:
Indonesia: 7:00 AM WIB (UTC +7:00)
Brazil: 13 September at 9 PM BRT (UTC -3:00)
Europe: 2:00 AM CEST (UTC +3:00)
North America: 13 September at 8:00 PM EDT (UTC -4:00)
Once it's available, players can download it from the Play Store or the Apple App Store. Android users will also have the option to obtain it using APK files that can normally be accessed on the official PUBG Mobile website.
It is recommended that users download the PUBG Mobile 1.6 update as soon as it becomes downloadable as those with the older version will not be able to initiate pairing with the newer one.
As with all other updates, the developers will add tons of features to PUBG Mobile. The Flora Menace gameplay is one of the additions, as the official controls mock up. Includes rejuvenation barrier, cell matrix, and DynaHex supplies. The mode was also available to test in the beta version.
We've been listening to our community and decided to bring back some of your favorite game modes in the next update!
Give a shout out to your favorite mode and help us decide what to bring back!
Rules
https://bit.ly/3BpmwZ9 or read below!
—
Event duration: 8.31 – 9.7
—
How To Enter
-For this event we would like everyone to submit a screenshot or memory from a past game mode that was your favorite as we hashtag poll to see which ones are your favorite! Don't forget your hashtag. (listed below)
-You can post these images or stories on your social pages including Instagram, Twitter, YouTube or Facebook, or simply share it in the comment section under this post.
-The memory can be a screenshot of your chicken dinner in the mode, a video clip with your squad in the mode, or your game mode suggestions.
-Share your image or story using the event hashtag #PUBGMMemory and include the respective hashtag(s) of the game mode(s) you would like to see return:
-Once you've done that you're all set and officially entered!
—
Judging and Prizes
-There will be nine (9) winners for this event
-Each winner will receive a permanent Red Rider Set!
-Community members can enter into the challenge multiple times however if selected as a winner, all other entries will be disqualified
-Community members can only win one reward
-If any community member is found to be using multiple social media accounts in an attempt to win multiple rewards, they will be disqualified from the event and banned from all future events. See less